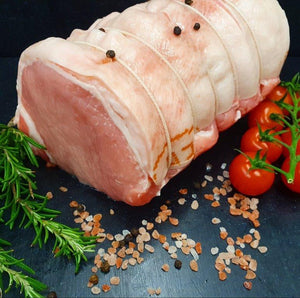 The perfect mid-week or Sunday roasting joint, everyone loves the crispy crackle that the outer layer of fat wrapped around the loin produces. 
RP Meats highly skilled butchers cut our pork sides down to each identifying muscle cut, from leg, shoulder, loin and belly. The pork is then laid to rest for 24 hours giving the meat time to relax and form.
Joints are then prepared from the meat, we offer 3 different sizes for you the customer depending on the amount of hungry mouths you are feeding.