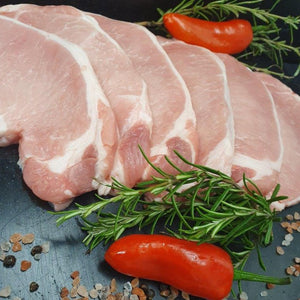 RP Meats highly skilled butchers cut our pork sides down to each identifying muscle cut, from leg, shoulder, loin and belly. The pork is then laid to rest for 24 hours giving the meat time to relax and form.
Our butchers then take the loin and expertly trim all excess fat off then slice each steak to perfection by hand and knife.
Pork loin steaks are a winning favourite at any given time of year, whether on the BBQ marinated, cooked in the oven with gravy or just grilled plain, a perfect choice each time.