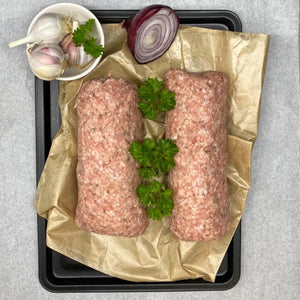 Whether used to make home made sausage rolls, as an accompaniment for the traditional Xmas Joint or grilled as a  bespoke sausage this product makes a fantastic choice.
 Using the only finest pork leg and shoulder cuts, this creates the ideal perfect balance of both meat and natural fat content, minced with our famous Lincolnshire seasoning which has been tried and trusted through 33 years of production, making us immensely proud of our home made sausage meat. 
RP Meats Butchers excel in the making of all our quality handmade bespoke sausages and sausage meat.