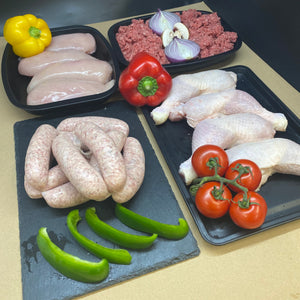 Another great box designed and expertly prepared by our head butcher Lee and his 12 man team of highly skilled butchers.
Lee has 12 years of expert butchering experience with RP Meats and is instrumental in the selection and processing of our sourced products.   
From succulent roast chicken, chicken stir fry, to toad in the hole, and beef lasagne this pack meets all your families energy and protein requirements.
4 x Fresh Farmed Assured Oyster Chicken Legs, approx 250 grams each leg  
4 x Fresh Farm Assured Chicken Fillets, approx 190/200 grams each fillet 
10  Homemade Pork Lincolnshire Sausages, approx 600 grams
 2 x 400 grams Lean British Beef Mince packs